Meet Our Principal Aruna Shetty: A Leading Light Behind 21K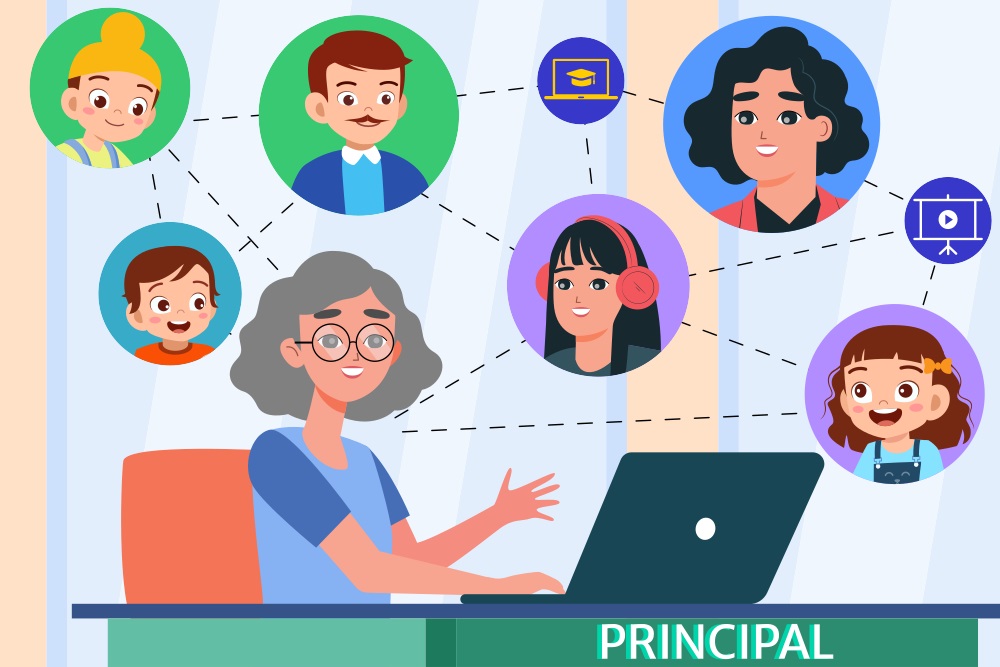 Introduction
A country is known by its President. Similarly, a school is known by the Principal. A principal is responsible for everything that happens in the school. This position comes with several responsibilities as many things need to be managed simultaneously. A leading light behind 21K, we are fortunate to have our Principal Aruna Shetty, a woman filled with zeal and enthusiasm, ready to confront ups and downs. She joined 21k as our Academic head and now, she is the Principal of our online school because of her comprehensive experience in governing international schools.
Her Journey To 21K: A Bag Filled With Invaluable Experiences
Our Principal kicked off her career a little late, but this never became a hurdle in her path. Being an optimistic person, she excelled wherever she went. Confronting all the ups and downs of life, she took up many courses from various prestigious institutes to upskill herself.
In academics, her career began at an IB school. She joined as a teacher and later on became a coordinator. She spent around 7 years there, where she learned how to facilitate among students and coordinate with other staff. Then she met Vidya Sundaram, her then school Principal and a great mentor, who made her understand that people like them, who are born to serve the community, no longer have the privilege of choosing a job. Since Aruna was intellectual to contribute to the field of academics, her mentor advised her to go for an opportunity that helped her grow as not many options were available at the time. After all, they were simply meant to serve the community. Throughout her varied experiences, Aruna Shetty became a good educator which led to her becoming the principal at 21k school.
How Is Her Experience Aiding The Progress Of 21K?
Her fifteen-plus years of experience in academics of international schooling, i.e., International Baccalaureate and Cambridge Assessment International Education (CAIE), assists in the progress of 21K. Her career graph has always escalated in terms of her designation, whether from an IB teacher to CIPP Coordinator or to establishing an international (IB-PYP / CAIE) school as an Associate Principal for a reputed institution in Mumbai.
The transitioning of a school from its nascent years to flourishing as a full-fledged school are the experiences that she gained and now utilized in the growth of 21K. She was always connected to children from the inception of her career. Over the years, she has performed varied job positions with skill and is acknowledged in the eye of teachers/mentors/principals. This is something that students need for their holistic development, someone who can make them ready to confront the challenges of the future. As we have heard that experience is the key, Aruna's experience gives her a comprehensive understanding of a student's needs at every stage of their academics.
Her Vision Regarding 21K 
Our Principal envisions making 21K learning a joyful experience. Moreover, she believes in providing quality education to children who are not fortunate enough to get it. She passionately believes that every child can exceed and that the cooperation between home and school builds trust and self-esteem in students. So, students can use their highest potential to shape their future, consequently, the future of our community and our nation. Our Principal Aruna Shetty says that "I am thankful and humbled that we are in a position to talk about a target of having 25,000-30,000 children. It is huge that we can touch that many lives. I want nothing more than to do justice to why I am here." Considering these objectives, she wants 21k to be a destination where students enjoy the learning phase and can freely develop themselves as responsible individuals.
Conclusion
Interestingly, our Principal says, "I am not passionate about anything, but I am passionate about everything. There is no one thing I am obsessed about. I have lived a good life with my mistakes." Further, she adds that "You have to live each day. Each day is a new day, and there is always something to give." She believes in giving more than taking, and she is doing her job in consonance with the principles of life. She is the Leading Light Behind 21K. Our Principal considers 21K as the thrill in her life. Her pride and joy lie in the fact that she can be an influencer. Titles come and go, but the blessing is touching people's lives. These are the qualities that make our Principal unique and assist in the welfare of our online school.
Online School
Read our latest education blogs here. We are pioneers in proffering personalised, affordable and high-quality lessons using an advanced learning platform.
Join Asia's Leading Online School and Unlock
endless opportunities
Join Asia's
Leading Online School
and Unlock endless opportunities