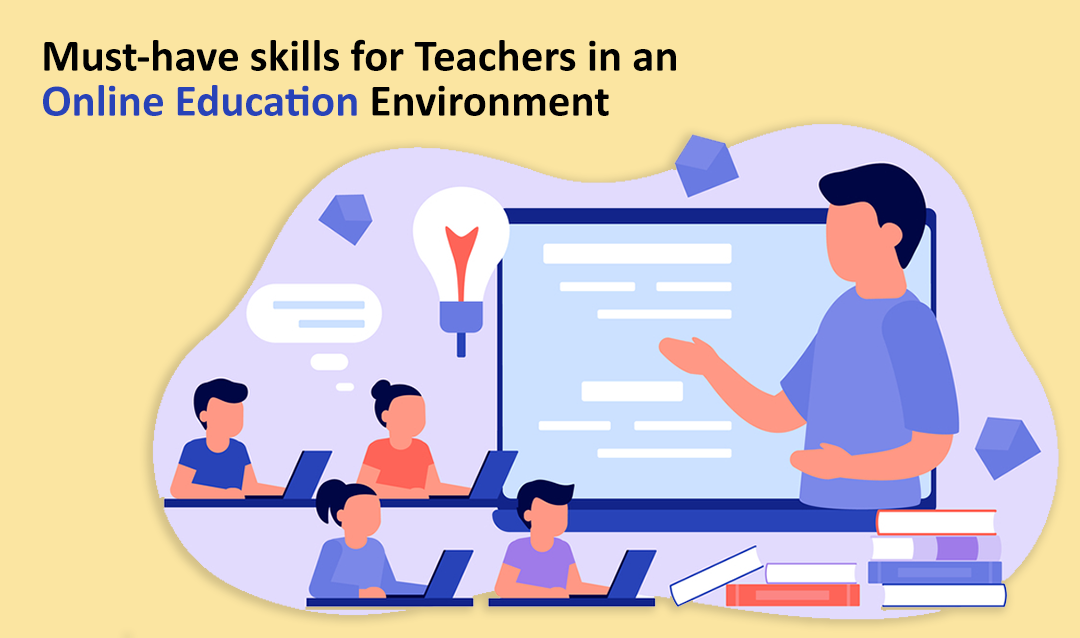 With a paradigm shift in education to a virtual stage, educators across the globe are looking for ways to adjust and incorporate new ways of learning with a student-centric approach. The teachers online had to change their teaching style profusely to make online education environment. The best educators realize that a successful online teaching session takes creativity, knowledge of the curriculum, engagement, and lots of preparation. Let's take a look at some must-have skills for teachers in an online education environment:
1. Must be aware of the digital environment
Many teachers of traditional schools have had severe issues about not being well-acquainted with technology. With education shifting to an online platform, teachers are left with no other option than to make themselves get acquainted with digital devices. Online teachers are expected to guide students and not just get them to tangle in the arithmetic of technology. One should at least have the basic knowledge of implementation of whatever app or software he/she is using in an online environment.
2. Must be pro at time management skills
Time management skill is extremely important to help students and teachers have a work-life balance. Teachers should be skilled at providing needed material to the students in a given time period. At the same time, teachers should also schedule their time for conference meetings apart from their normal class hours. Making time for such a rubric will help students speak about the changes they want in their routine.
3. Must have good communication skill apart from good teaching skill
In an online environment, teaching is not just about sharing knowledge but it is also about building a bond. And, that could only be done with good communication skills. Online teachers need to be friendly and at the same time have clear communication with the students. This will increase the engagement rate of that particular class. Moreover, it will help students feel supported.
4. Make yourself accessible
The main part of online teaching is that you need to be available to your students whenever they come up with a question. Since classes are no more held in a traditional way, therefore, students cannot come for face-to-face assistance. Indeed, teachers need to provide a way of communication to the students, whether it is via mail or any other digital app.
5. Be creative
Teachers are no longer expected to teach their subjects and go. They must be friendly, humorous, and adaptable to the environment and especially, be proactive to build a connection. In the online environment, teachers must come up with some creative assessment so as to engage each one of their students and make them involved in the subject. The online school environment is a mix of virtual instructions and individual assignments. And, doing so sometimes could be boring and hectic for the students. 21K School prides itself on selecting such teachers that have all the above-mentioned skills. Here, teachers make sure to provide all the information in a fun way. Certified teachers at 21K School go through professional developments to become experts in their particular subjects. Being India's first online school, it works in the best way to make a difference in society.