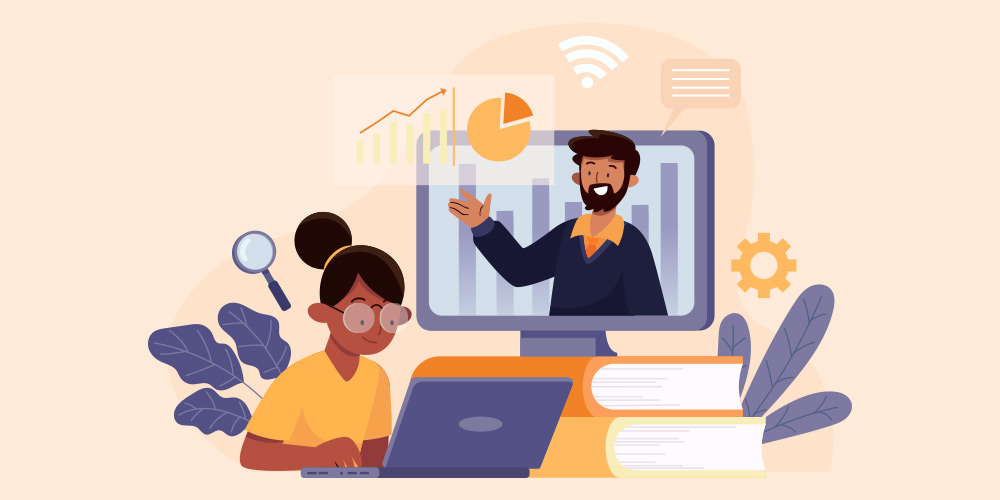 The advancement of technology has also revolutionised the education sector across the globe. The recent pandemic was a time when almost every student, teacher and parent understood what such advanced technologies could do, and hence, the popularity of online learning has been on the rise since then.
So, if you are a parent caught in the conundrum of whether to continue with this method for your kid, you are at the right place. Read on to understand the benefits of online learning.
Advantages of online learning
Following are some notable upsides of online learning –
1. Flexibility of learning at your own pace
You, as a student, get a chance to learn at your speed and you need not worry if you are left behind by the other students. That way you have less pressure on you while studying and you can enjoy learning as well.
2. Gives space to pursue other activities
At this tender age, children need not study the whole day and all the time. After all, you must have come across the saying," all play and no work makes Jack a dull boy."
3. Apply for a wider range of courses
One of the benefits of online learning is that here children can take up courses from international schools from anywhere in the world from their own homes or wherever they have an online studying setup. So, they can choose from a wider range of courses, some of which are popular globally. You never know what you might come across while learning. You could even take up a foreign language.
4. Interact with students from different countries and cultures
When you learn online, then you may have classmates from all around the world. What this means is that you can gain insights from other students as well. You get a chance to learn about new cultures and different countries in due course.
5. Pragmatic coursework
Online learning for children can be beneficial only if the coursework should be useful and easily applicable. So, it should be pragmatic in all aspects with a vision for the future as well. What you learn from your online teachers, classmates, and coursework should align with what you do in the real world outside.
6. Lower course fees
As a student, you should choose to select an online program that meets your academic needs without exceeding the budget.
7. Teaches time management 
One of the most important upsides of online learning for children is that they learn more about time management. Managing your time as a student is an important skill where you need to multitask besides completing your coursework and learning assignments. When you study online, you get to learn how to allocate time for your tasks and move forward to your goal.
8. Collaborate virtually for various purposes
Be it preparing for your holiday homework, daily assignments or studying for various exams, it is extremely helpful if you can collaborate virtually. Not only do you learn how to do teamwork, but you will also get a bonus if you collaborate with a sharper person. They could teach you tricks that you might not find anyplace else.
9. Chance to learn technical skills
Among the advantages of online learning is that you will get a chance to gain technical skills like programming, AI and ML. These courses are highly in demand, and online classes have given a unique chance for online learning for children. If you are a child, then you could gain access to these skills much earlier than the students who are still following the conventional methods of teaching.
10. A learning environment tailored to your needs
Complete your coursework from any place, whether you are at your own home or some relative's home. You can also study on your PC or your smartphone. You can even choose the most comfortable setting for yourself, even if you are travelling somewhere. This liberty is among the top benefits of online learning.
11. Save the time you spend on the commute
The discomfort of going to school and returning home is quite exhausting. Half of the child's energy is lost in travelling to and fro. Enrolling in an online school or class eliminates this problem.
12. You can communicate in multiple ways
If you are still sceptical about where and how you will learn, then there are multiple platforms where you could learn. Online streaming platforms are a great help in this regard. Also, the video-sharing platforms enable teachers to upload their classes and help more students.
Parting Thoughts
The benefits of online learning are more far-reaching than what it presently is. As time progresses and new technologies are introduced in this system, it could become the primary mode of education in the coming days. However, if you are planning to introduce your kid to this complete online mode of learning, then there is no one better than 21K School.