Logistics Services Terms and Conditions
Important information
To initiate the shipping of the learning kit, 21K School will ask you to provide the following information.
1. Consignee Name, Address, Contact Number.
2. Identity Proof of the consignee, recognised by the Government.
3. Photograph of Student for school ID card - Background should be plain & white. Head facing forward, eyes horizontally aligned & Shoulders straight. Do not wear a hat or head covering, unless worn daily for a religious purpose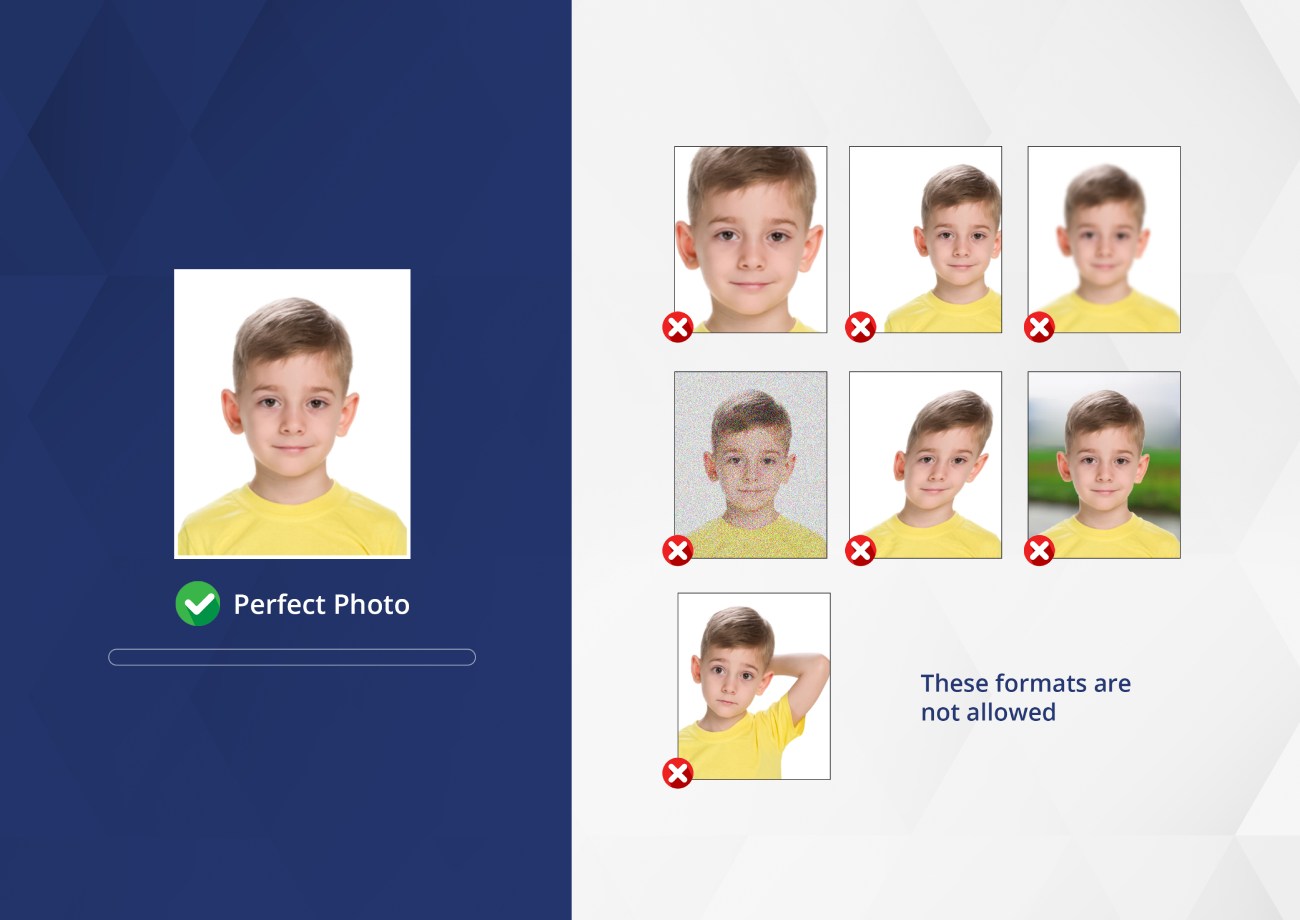 4. School T-shirt Size based on the Size chart.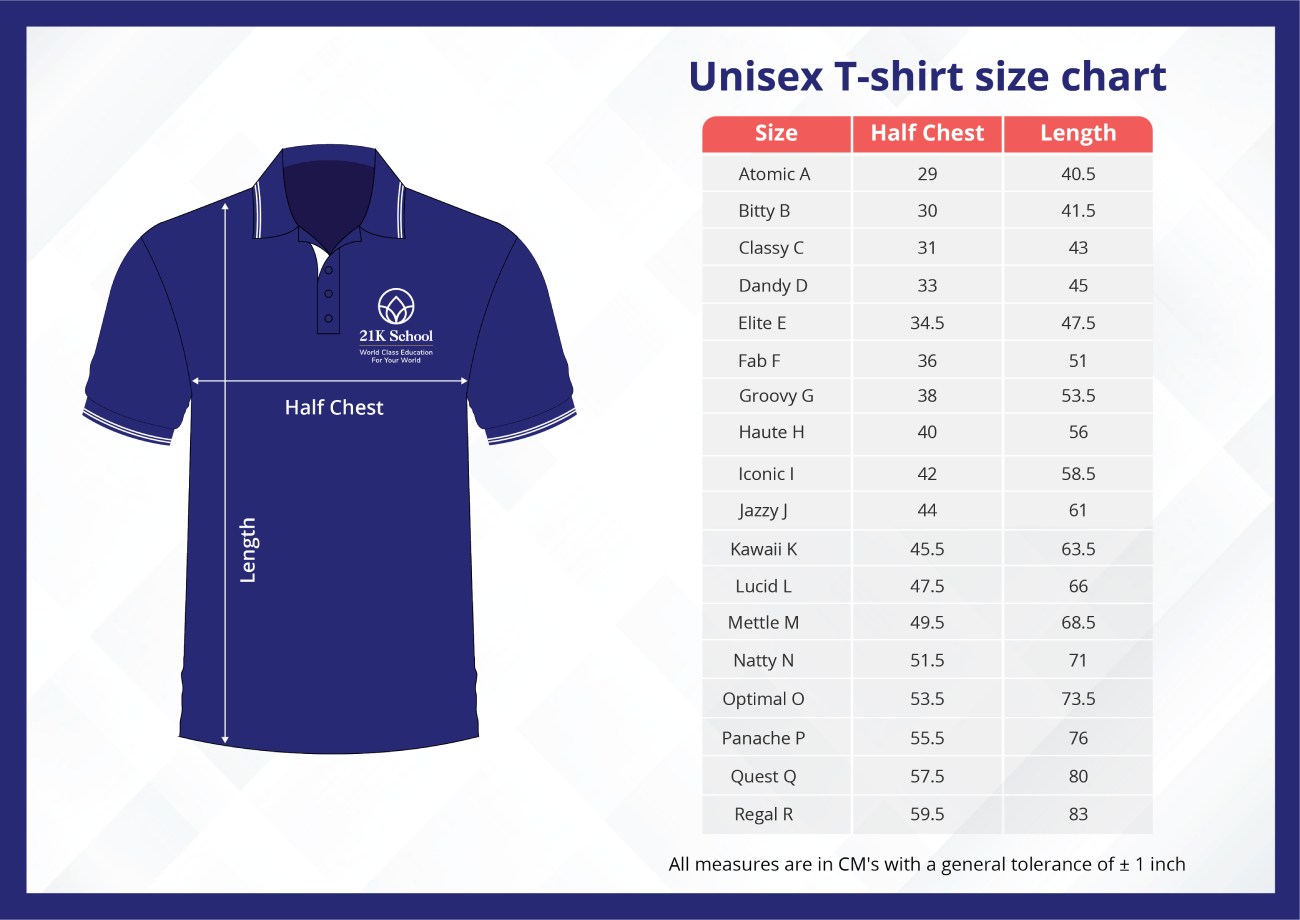 This information will be recorded on our system and the delivery will take place at the delivery address you specify.
It is solely your responsibility to ask the Student Support Centre(a) to update our records with any changes in the above information at any point of time. The request needs to be formally acknowledged by the support team to come into effect. It is imperative that the information given by you is always accurate as we will rely on this information provided by you.
Only Digital Learning Kit is supplied for students from the following countries, based on the availability of the content.
ASCENSION
BOVET ISLAND
BRITISH INDIAN OCEAN TERRITORY
DEMOCRATIC REPUBLIC OF CONGO
FRENCH SOUTHERN TERRITORIES
HEARD & MCDONALD ISLANDS
PITCAIRN
PAKISTAN
SAINT PIERRE & MIQUELON
US MINOR OUTLYING ISLANDS (BAKER IS, HOWLAND IS, JARVIS IS, JOHNSTON ATOLL, KINGMAN REEF, MIDWAY ATOLL, PALMYRA ATOLL, WAKE IS)
UKRAINE
WESTERN SAHARA
YEMEN
5. Hard copy of report cards will be furnished to all students who acquire the learning kits. Urgent delivery or re-delivery of printed copies will be subject to a fee.
Please be aware that the school can also issue paid hard copies of specific documents, such as, Children Education Allowance (CEA), No Objection Certificates (NOC) and/or Bonafide certificates. Any other academic certificates can be provided as soft copies only.
Former students have the choice to request for complimentary soft copies or opt for paid hard copies of their report cards, transfer certificates, and/or Bonafide certificates.
It is imperative to note that documents digitally signed by our institution hold legal validity in all circumstances and requests for physically signed copies will not be accommodated.
If identified with incomplete, incorrect, or inaccurate information or instructions, the delivery of kit/documents may be affected or delayed. In such circumstances along with cases when delivery is refused by consignee / unavailable to contact or collect, we may have to resend which will incur shipping charges, applicable to both domestic & international shipping.
International couriers may be subject to import taxes, customs duties and/or fees imposed by the destination country as specified by the respective countries' local laws. This needs to be borne by the receiver. 21K School shall not be responsible for these duties and taxes, including any collection/handling charges incurred by parents.
Domestic shipping time generally takes around 2 weeks. International delivery times vary depending on the country we are shipping to, but most destinations can be reached within 20-30 days. Express shipping options can be availed at an additional cost for urgent delivery.
Changing your Preference
If you would like to change the curriculum or change/add subjects or item(s) before the learning kit is dispatched, please contact the Student Support Centre(a), we will advise you if this is possible. Your new request must be formally acknowledged by the support team to come into effect. Please also note this might further delay the delivery of the kit.
If you have changed a subject after the kit is dispatched, it will attract additional cost for the change along with shipping charges for the new shipment, subject to the feasibility of the change along with the availability of the item(s), applicable for both domestic and international shipments.
No exchange/return of item(s) is entertained at any time.
Damaged items
If you have any concerns or notice any damage to items following delivery, please notify our Student Support Centre(a) within 7 days of receipt of the learning kit, otherwise no claim will be considered.
Please share the image & keep them safely so that we can inspect later. If you dispose of any item before we have had the opportunity to inspect it, then this could affect any claim.
We will always attempt to replace any damaged product; delivery charges including any custom duties and taxes will be borne by us. However, if we are unable to do so we will refund you with the full amount you have paid for the product(s) together.
Books undergo a sanity check before dispatch. As long as the content is not missing, unbroken and readable, the items will not be considered as damaged. Damaged items also don't include folded books/print contrast/quality /torn pages /damage to the packaging box or the goodies given in the learning kit.
Our liability
In the event of any unforeseen circumstances (such as vehicle breakdown, traffic accident, major traffic delays, lockdown, flight delays or severe weather "Force majeure event"), We will not be liable for any losses incurred due to a delay in delivery arising out of any cause beyond our control.
You are responsible for ensuring that you are available to accept delivery. If you are not, there must be an adult available who can receive delivery on your behalf, and you agree that we can rely on their instructions as if they were your own. If the delivery has been missed or at any other circumstances, our Logistics executives may advise you to visit the nearby EMS centres to collect the shipment. Once delivered, we will rely on the delivery report signed by you to the courier service, any claim of undelivered kit will therefore be held null and void.
Please also note that all items are subject to availability, and we will not be liable for any losses you sustain at times when we may not be able to supply the items due to force majeure events.
We will do our best to ensure that your Learning kit is available at the earliest. We reserve the right to request your patience or to withdraw any items at any time and refund you any money paid to us for items which we are no longer able to supply.
We try our best to make sure that all information, including descriptions of our products and quantities are accurate at all times. However, if we do make a mistake, we'll compensate for it and try to resolve it as soon as possible, and if we spot that an error has affected your delivery, we'll do our best to let you know.
All disputes are subject to the courts of Bengaluru in India.
(a) Student Support Centre
Email: info@21kschool.com
Phone: +91-96632 13636