Languages
Additional language is introduced as electives, enabling students to further develop their linguistic abilities.
We provide tailored support for non-English speakers of all levels and ages, helping them to successfully adopt English as their first language of learning.
Students can select any one 2nd and 3rd language subject from the below-mentioned options.
While students must study 2nd Language, studying a third language is optional for Grades 1 to 8.
There is no additional tuition fee for studying a 2nd Language.
Students of Grades 1 through 8 who choose to pursue a third language will incur additional tuition fees of ₹6000. This fee will be payable in 2 instalments - ₹3000 in July 2023 and ₹3000 in Oct 2023.
Language Policy
English is the First Language and Medium of Instruction.
All students must opt for Second Language from Grade 1 to 8.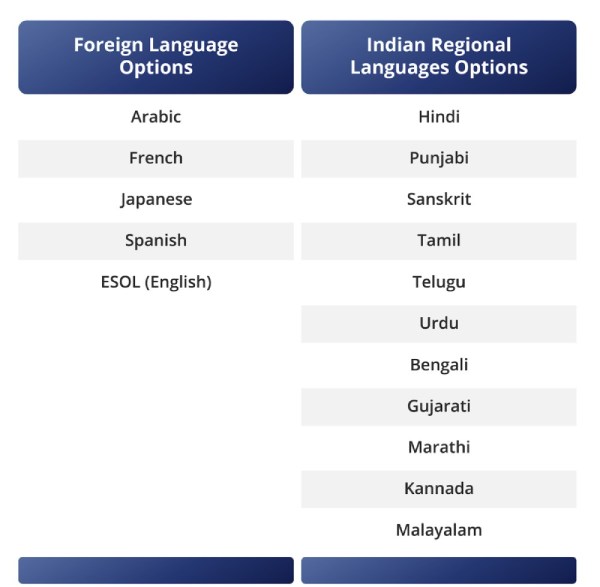 Students of Grades 1 to 8 can select a Third Language (optional) on payment of additional charges as mentioned above. Classes for these will be conducted twice a week after regular school hours.
Except in Grade 1, students must have studied the language in earlier Grade to opt the 2nd Language at 21K School.
The learning levels for 3rd Language are defined as per the rubrics detailed here. Parents are encouraged to ask students to attempt the diagnostic assessment independently without assistance to ascertain the correct level of books and grade placement for 3rd Language only. Incorrect selection of Level of 3rd Language will cause delay, additional cost, returns, and loss of learning.