Habits of Mind
World class education for your world.
21K School infuses the world-renowned 16 Habits of Mind into its academic practices as exemplary student attributes. Students will learn to become critical thinkers and develop a sense of inquiry, persistence, and flexible thinking, as well as strength-based cognitive skills of success that can be taught, coached and practised.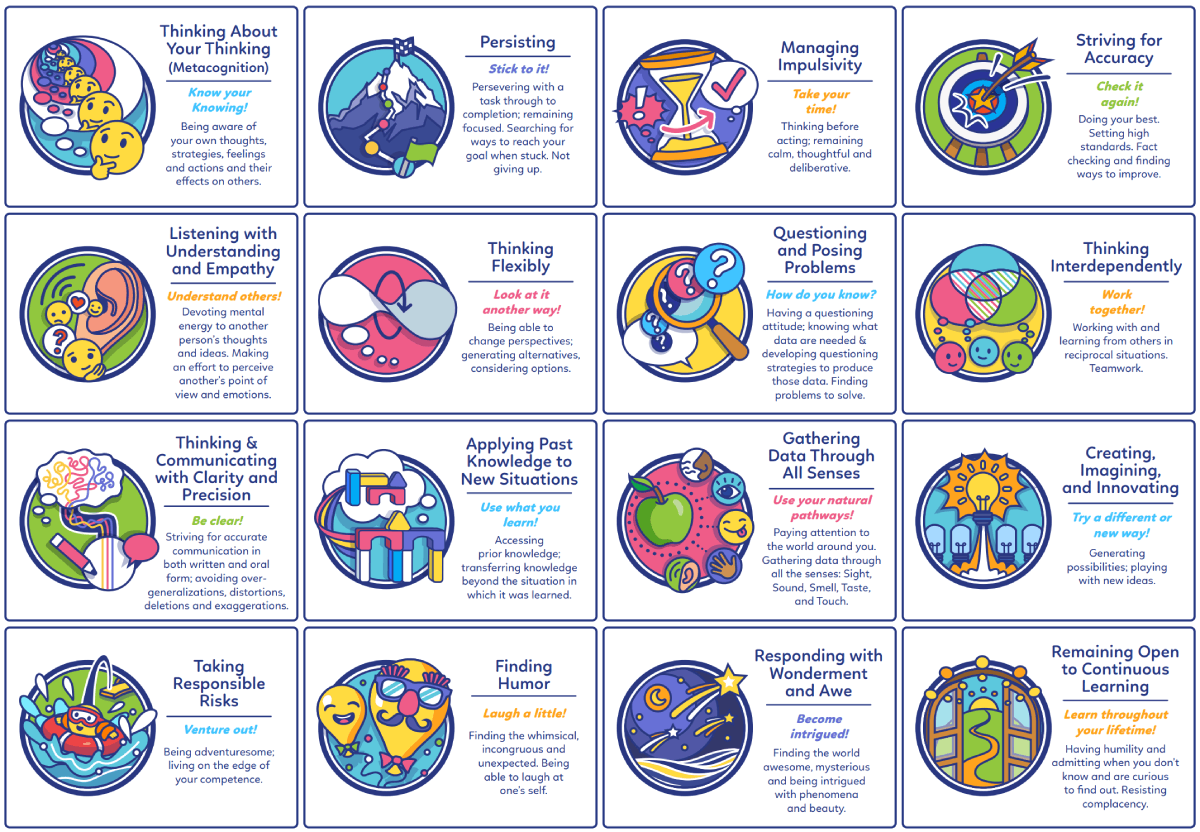 21K School has recently been certified as an "International Habits of Mind Learning Community of Excellence". We are the first School in Asia to receive this prestigious certification of excellence.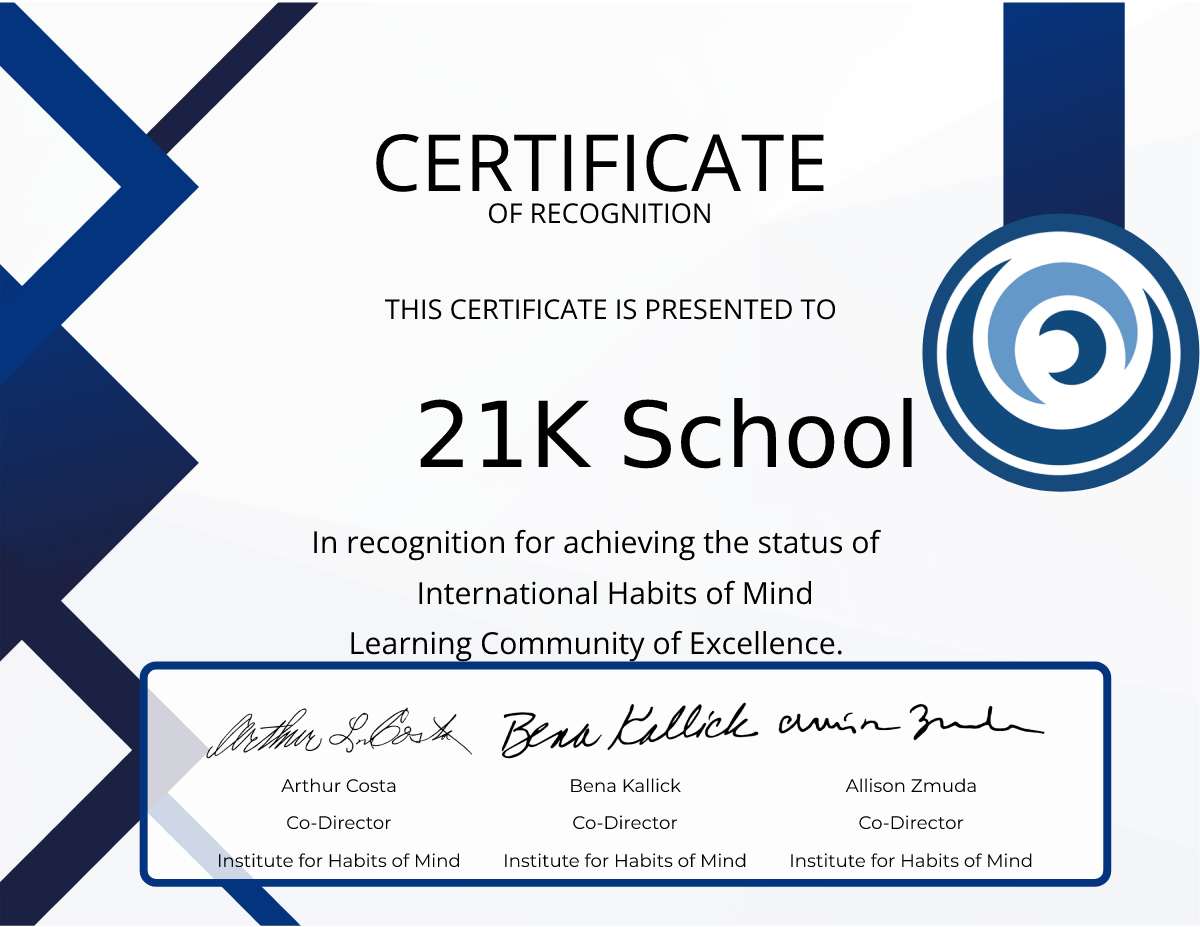 The Institute for Habits of Mind, founded by pioneering researchers and authors Dr Arthur Costa and Dr Bena Kallick, is an international organisation which helps educators, parents, and all who care for children to learn, practice, and infuse the Habits of Mind into their work and lives.
The powerful 16 Habits of Mind is cutting-edge research for Thinking-Based Learning programmes, along with extensive instructor training and curriculum development. The Habits of Mind programmes have been provided to a selected less than150 schools worldwide., including 21K School.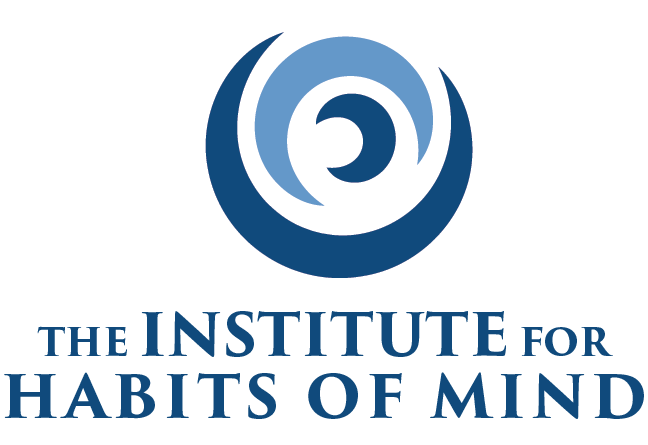 Click here to learn more about Institute for the Habits of Mind
The habits of mind are a universal framework of thinking, a set of 16 dispositions or thinking behaviours that are desirable attributes for learning and living productively in a complex world. We can use these habits when confronted with problems and situations to which the answers are not immediately apparent. When we intentionally implement these habits of the mind, we become more thoughtful, responsive, and innovative. Our students can grow their capacity as efficacious thinkers to navigate and thrive in the face of unprecedented change.
21K School is an International Habits Of Mind Learning Community of Excellence where all the individuals value, display and seek to expand, deepen and learn more about the Habits of Mind. We are committed to the Habits of Mind being a part of the ongoing culture of the school. Evidence of the Habits of Mind can be found throughout the school - in the environment, curriculum, pedagogy, assessment and practices as well as in action.
At 21K school, We are committed to the ongoing growth and development of the Habits of Mind. The award of a Habits of Mind Learning Community of Excellence is a recognition of this commitment.
The process of certifying 21K School as an International Habits of Mind Community of Excellence was rigorous. Our entire Academic Leadership team took a 6-month course and was coached by Ms Bena Kallick and Ms Allison Zmuda.
At the end of 6 months, a portfolio of evidence reflecting the progress and achievement with the Habits of Mind across all our schools was submitted for inspection. A plan generating our long-term vision for Habits of Mind aligned to our vision and mission was submitted.
Upon successful demonstration of significant achievement and commitment to the Habits of Mind, the award of a Habits of Mind Learning Community of Excellence was granted to 21K School.