Azim Premji, the Tzar of the Indian IT Industry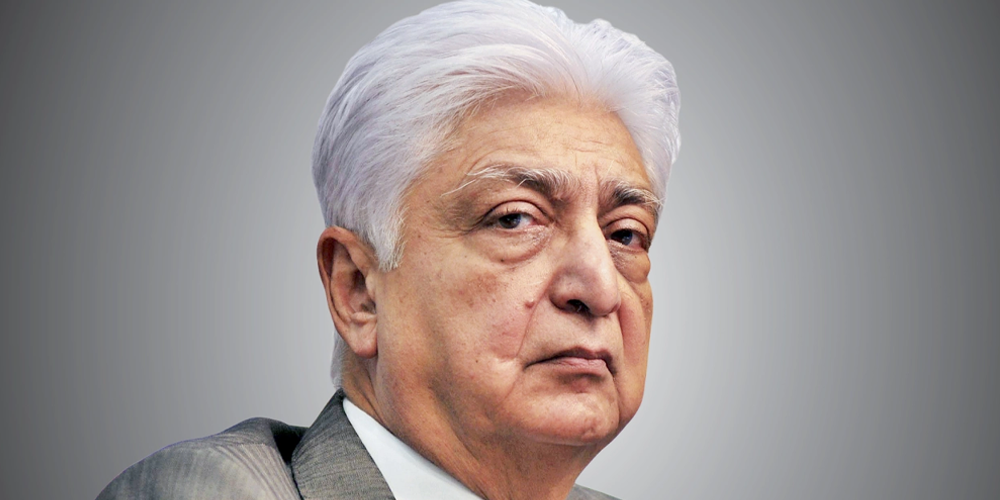 Azim Hashim Premji is a famous Indian business tycoon. He is the founder of Wipro Limited. He is also known as the Czar of the Indian IT Industry and has guided the company for more than four decades of growth.
For the year ending June 2022, Wipro generated more than $10.693 billion in revenue. This all has been done with the help of the proper guidance of Azim Premji.
Much more about Azim Premji will be mentioned in this article.
Azim Premji's Early Life and Education
On July 24, 1945, Azim Premji was born in Bombay and was raised in a Gujarati-Muslim home. Additionally, his father, a businessman, was referred to as the "Rice King of Burma."
The founder of Pakistan extended an invitation to Azim Premji's father to relocate there. However, his father declined and decided to remain in India. Azim Premji earned a degree in electrical engineering. Following that, he wed Yasmeen, his wife. Rashid and Tariq Premji are the names of Azim Premji's two children. Rashid Premji, Premiji's son, was chosen to lead Wipro as Executive Chairman in 2019.
Beginning of a $1 billion tech giant

Everyone is familiar with Wipro's services and the value they add to businesses and consumers worldwide. However, a lot of individuals are ignorant of its origins. In 1945, Mohamed Premji established Amalner-based Western Indian Vegetable Products Ltd., which became WIPRO. The new business produced laundry soap and cooking oil.

Premji left his studies at Stanford in 1966 after learning of his father's passing and returned to his hometown. He chose to take over the firm. After some time, the business moved into products, including infant toiletries, hair care soaps, and baking fats.
Azim Premji Foundation
Azim Premji started a non-profit organization in 2001, which was named the Azim Premji Foundation. In 2010, he pledged to donate USD 2 billion to improve India's education sector. He did this through the 213 million equity shares of his company. Premji then promised an extra 34% of his Wipro shares, a significant amount, to the charity.
During the testing phase of the COVID-19 Pandemic in May 2020, the Azim Premji Foundation worked with the Institute for Stem Science and Regenerative Medicine and the National Centre for Biological Sciences. 
The Promise of Giving
Azim Premji joined the Warren Buffett and Bill Gates-led Giving Pledge initiative. The goal was to inspire the world's wealthiest people to support most of their favorite charitable projects. He forfeited almost 43% of his Wipro ownership. Because of his gifts, he rose to the top philanthropist in India in 2019.
Recognition & Awards

He has received plenty of honours and accolades. Following is a list of some of them. For leading Wipro Ltd. to such heights, he was also honoured by Business Week as one of the "Greatest Entrepreneurs."
●      Manipal Academy for Higher Education awarded an honorary doctorate in 2000.
●      2009: Connecticut's Wesleyan University awarded an honorary doctorate.
●      The NIIE, Mumbai, awarded Lakshya Business Visionary in 2006.
●      Mysore University awarded me an honorary doctorate in 2015.
●      2005 Padma Bhushan honoree.
●      Padma Vibhushan honour bestowed in 2006.
Famous Book on Azim Premji
Some books are written about Azim Premji, including 'Azim Premji: The Man Beyond The Billions'. Anybody can get to know all the information about them through this book.
Most Generous Indian
Wipro is a very famous company and has a prominent figure in the Indian media. They have committed an additional Rs. 1000 crore of grants to support the battle against COVID-19.
The growth of Wipro has been tremendous, and it is because of Azim Premji. Wipro is the 9th largest employer in India and has more than 2.3 lakh employees. This all has been done under the guidance of Azim Premji. He has proved his ability by transforming the IT sector.
Featured
Read our latest education blogs here. We are pioneers in proffering personalised, affordable and high-quality lessons using an advanced learning platform.
Join Asia's Leading Online School and Unlock
endless opportunities
Join Asia's
Leading Online School
and Unlock endless opportunities