Manpreet Singh – The Hockey Player's Journey from Mithapur to the Olympics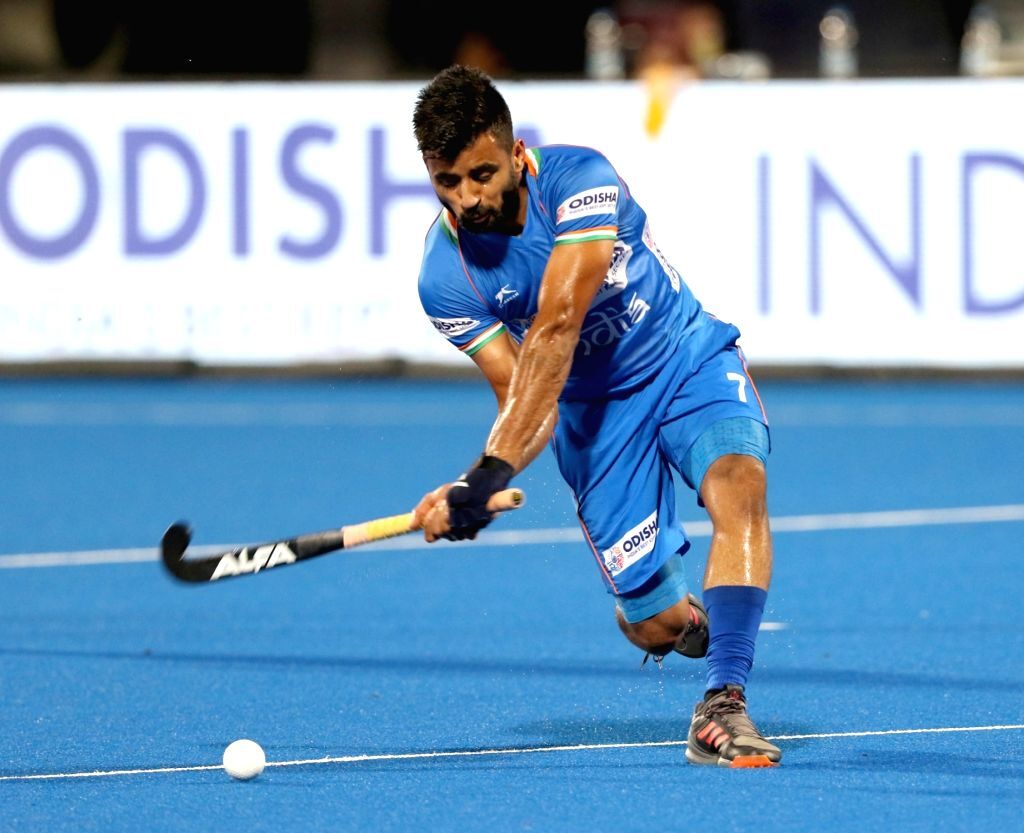 Indian hockey team captain and bronze medalist Mary Kom from the London Olympics have been chosen to carry the Indian flag at the Tokyo Olympics. Following former Indian hockey captain Pargat Singh, Manpreet Singh became the first member of the Indian hockey team to take the Olympic banner (1996 Atlanta Olympics).
Manpreet Singh and Pargat Singh are both residents of Mithapur, a hamlet in Jalandhar. The Indian field hockey player Manpreet Singh had an impressive journey from the small village of Mithapur to the Olympics. Continue reading to learn more about Manpreet Singh's journey from Mithapur to the Olympics.
Incredible Journey of Manpreet Singh from Jalandhar
Manpreet Singh was born in Mithapur, a village on the outskirts of Jalandhar. He comes from an agricultural family with successful businesses. He first met Najwa Saddique when the team competed in the Sultan of Johor Cup in 2013, and they later married in 2020.
A motivational figure for Manpreet Singh was Pargat Singh, the captain of the Indian hockey team. When Manpreet Singh was ten years old, he first took up hockey. His mother, who opposed the idea, once locked him in the room.
His family began to encourage and motivate him when he brought home the first prize of INR 500 at a competition in the year 2005. He then enrolled in Jalandhar's Surjit Hockey Academy, a prestigious institution.
The Road to Success
Manpreet Singh earned his international debut in 2011 while playing for the Indian youth squad. Sardar Singh and German Captain Moritz Furste are some of his heroes. He is a huge fan of both David Beckham and Cristiano Ronaldo and wears the same shirt number, "7," as both superstars.
Manpreet Singh has represented India in over 259 international contests. At the hockey stadium in Mithapur, he began playing hockey at the request of his older brothers, Sukhraj Singh and Amandeep Singh, and his father, Baljit Singh.
Manpreet Singh then took part in the 2016 Sultan Azlan Shah Cup. He was shocked to learn of his father's death right before the competition started. He rejoined the team after the funeral, and the Indian team eventually took home the bronze.
Manpreet Singh was the first Indian player to win the International Hockey Federation (FIH) Player of the Year title the previous year. Manpreet will participate in his third Olympics following the 2016 Rio and 2012 London Olympics.
Also read, How Online Schools Can Support Young Athletes.
Olympics in Tokyo
At the Tokyo Olympics, Manpreet Singh will participate for the third time. Given that 10 of the 16-member squad will have their Olympic debuts in Tokyo 2020, the midfielder's experience will be essential. Twelve Indian athletes have already qualified for the Tokyo Olympics.
Six medals from the 2012 London Olympics, which still stand as India's best medal total at a single Olympic Games, prevented 117 Indian athletes from competing at the 2016 Rio Olympics. With several Indian competitors at the top of the international rankings, we have high hopes that the threshold will be crossed in Tokyo.
Final Words
​Success stories like this are pretty inspiring. Athletes like Manpreet Singh put in a lot of hard work, effort and time to achieve success. Many youngsters aspire to become a professional sportspersons. But it is impossible for them to dedicate time to sports and still excel in school simultaneously.
Why make children choose between education and their passion? With online schools, they get personalized and flexible learning environments so they can follow their passion without compromising on quality education.
Featured
Read our latest education blogs here. We are pioneers in proffering personalised, affordable and high-quality lessons using an advanced learning platform.
Join Asia's Leading Online School and Unlock
endless opportunities
Join Asia's
Leading Online School
and Unlock endless opportunities
You may also want to read