India's Tennis Superstar- Sania Mirza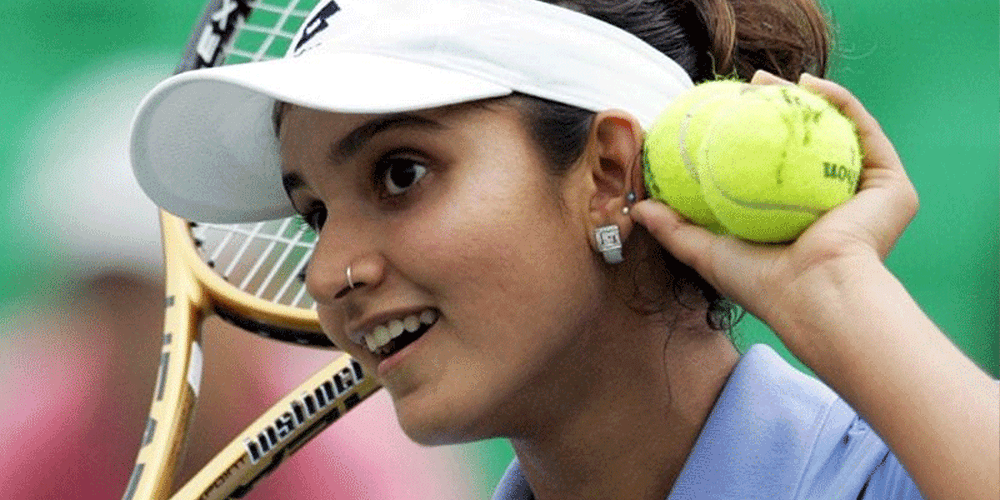 She doesn't play to make a statement. She competes for both herself and her nation. If she believes she can succeed at something, she will keep trying until she does. Sania Mirza is the first person that springs to mind when anyone thinks of tennis athletes! She continues to be the tennis representative in India, having had a fruitful international career for two decades. Sania Mirza is an example for young women who want to follow their passions and challenge gender norms, thanks to her several big titles, years of experience, and talent. Discover her life story and success philosophy as the Indian tennis superstar gears up for another victory at the forthcoming Tokyo Olympics!
Sania Mirza's Formative Years
Sania Mirza was born in Mumbai on November 15, 1986. Imran Mirza, a sports journalist, and his wife Naseema operated a printing company in Hyderabad, where she was born into a Muslim household. She and her sister, Anam, grew up in a devout Muslim family. When she was six years old, she started playing tennis. Her father and Roger Anderson both trained her.
From the Junior ITF Circuit in 2003 through the Tokyo Olympics in 2021, a fantastic career
Sania Mirza had an outstanding career in the year 2014. The Zimbabwean Cara Black helped the tennis player win WTA Tour Finals and the Portugal Open. The tennis player has a history of amazing victories. To win the 2014 US Open Mixed Doubles Championship, she teamed up with Brazilian Bruno Soares. She also won bronze alongside Prarthana Thombare and gold, partnering with Saketh Myneni in the 17th Asian Games in 2014. Before the year was done, she won the International Premier Tennis League and played a crucial part for the Indian Aces.
Another significant achievement occurred in 2015. Sania Mirza, who finished sixth in the WTA doubles rankings, and American Bethanie Mattek-Sands claimed the Apia International by defeating Martina Hingis and Flavia Pennetta. Sania and Hingis became a talented franchise, winning at events in Beijing, Wuhan, Guangzhou, the US Open, Wimbledon, Charleston, Miami, and Indian Wells. The duo won three Grand Slam championships, five WTA Premier awards, and one WTA International title. In 2015, Sania was awarded the Rajiv Gandhi Khel Ratna. With Hingis, Mirza won the Australian Open to start her 2016 campaign. This was their final Grand Slam victory. After the two separated, Sania teamed up with Barbora Strycova and won the WTA doubles number one position.
Personal Identity
Following Pakistani wedding customs, she wed cricketer Shoaib Malik on April 12, 2010, in Hyderabad, India. The event was a typical Hyderabadi Muslim wedding. The couple's wedding ceremony took place in Sialkot, Pakistan. In 2018, the couple posted a social media announcement about their first pregnancy. Izhaan Mirza Malik was born in October 2018, according to a statement made on Twitter by Shoaib Malik.
Prizes and Appreciation
Sania Mirza garnered many titles throughout her career. Let's glance at the numerous awards she received as a pro at lawn tennis: 2004's Arjuna Award; In 2005, WTA Newcomer of the Year; In 2006, Padma Shri; 2015's Rajiv Gandhi Khel Ratna; 2016's Padma Bhushan; Tournament Success; and Grand Slam events.
Conclusion
Sania Mirza, an Indian tennis champion, is all that was mentioned. Sania Mirza's dedication to her craft inspired a generation to pursue a career in sports and exercise and persevere in facing challenges. Thousands of Indians have taken up tennis as a game and a vocation due to Mirza's extraordinary accomplishments in the field. Follow 21K School on Facebook, Youtube, Instagram, and LinkedIn for more enlightening tales.
Featured
Read our latest education blogs here. We are pioneers in proffering personalised, affordable and high-quality lessons using an advanced learning platform.
Join Asia's Leading Online School and Unlock
endless opportunities
Join Asia's
Leading Online School
and Unlock endless opportunities
You may also want to read