Tips and Tricks for First-time Online Homeschoolers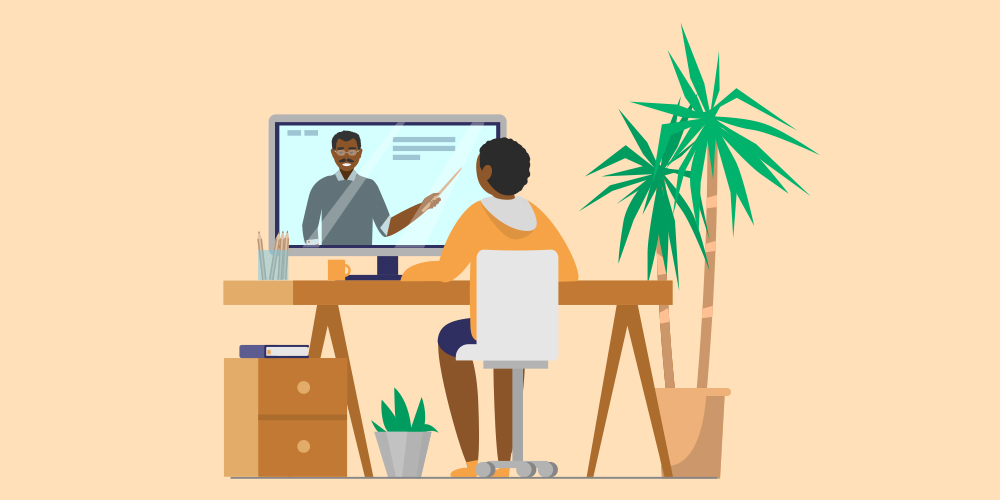 Due to the Covid-19 pandemic, online homeschooling in India has grown in popularity, and more parents are choosing it over traditional methods of education. Instead of adhering to a demanding school schedule, homeschooling enables youngsters to concentrate on their academics in a relaxing setting. However, it might be challenging to establish discipline and order in a home learning setting. This might make students frustrated and perhaps put them behind on their homework or learning goals. In this blog, we have provided top 5 tips and tricks for first time online homeschoolers that would help ease the process of homeschooling for parents and students.
1. Establish a dedicated learning area
Homeschooling is thrilling, enjoyable, and often messy. Living and studying together may easily result in disarray and disorder, which is not the best atmosphere for nurturing happy students.
Keep your kids' study materials tidy and set up a dedicated learning hub—a place where they keep resources and books—to prevent confusion. It is beneficial to have your children's belongings arranged in one location, even if they end up working at the kitchen table. Have them return their items to their appropriate location once they have finished their assignment.
To ensure that they are always aware of what has to be done, place a printed schedule at their desk.
2. Create an early schedule for the school year
To monitor the progress towards goals and prepare for major tasks, map out your kid's academic year. When you divide large projects and goals into digestible chunks, you're less likely to let things slip through the gaps.
There are several strategies to align your curriculum with your objectives, including:
1. Org charts
2. Brain mapping
3. Roadmaps
4. Flowcharts
5. You can stay organised and track your progress easily by visualising your ideas.
3. Set learning objectives together
Goals play a significant role in personalising their education. You are more likely to reach those learning objectives and appropriately match your daily curriculum when you have a vision and a strategy for where you want to go.
Establish some important learning goals for your child in advance as the parent or instructor. When you've established some general goals and milestones, sit down with your child and get their feedback.
Set learning objectives that are split down by year, semester, and month. Additionally, this is an excellent chance to impart to your youngster the principles of goal-setting (such as the SMART formula).
4. Connect with other online homeschoolers
You're not in this alone just because you're in charge of your child's education. All around the world, there are homeschooling communities.
To cooperate and exchange resources, get in touch with other homeschoolers in your neighbourhood or online. This will not only simplify the schooling process for you but also improve your child's educational chances both inside and outside of your house.
5. Make learning a joint family activity
Express your enthusiasm for learning with your child. Is there a topic or pastime that the whole family enjoys? Embrace that.
For instance, you could:
1.  Read together
2. Try out a new activity or ask a relative to teach you something
3. Create crafts
4. Travel around your own city
5. Go hiking as a family
6. Visit a museum
Making learning enjoyable for the family is possible in a variety of ways. Visit the zoo as a family to get knowledge about ecology or animals. You may also work on your home skills by cooking with a partner or by learning how to build a grocery list and plan a meal.
For a memorable and enjoyable event, go creative and engage the entire family.
Conclusion
It's not necessary for homeschooling to follow the layout and organisation of public schools. Don't be hesitant to experiment with your timetable and learning method. Pay attention to what your child says works well for them, and make necessary adjustments.
Online homeschooling might initially appear scary and overwhelming. Staying organised and creating an interesting learning environment is not simple and it takes a lot of care and patience.  Fortunately, one of the best accredited homeschool programs in India is offered by 21K School. Start by using the above mentioned tips and tricks to give your children the best online homeschooling experience.
Homeschooling
Online School
Read our latest education blogs here. We are pioneers in proffering personalised, affordable and high-quality lessons using an advanced learning platform.
Join Asia's Leading Online School and Unlock
endless opportunities
Join Asia's
Leading Online School
and Unlock endless opportunities
You may also want to read