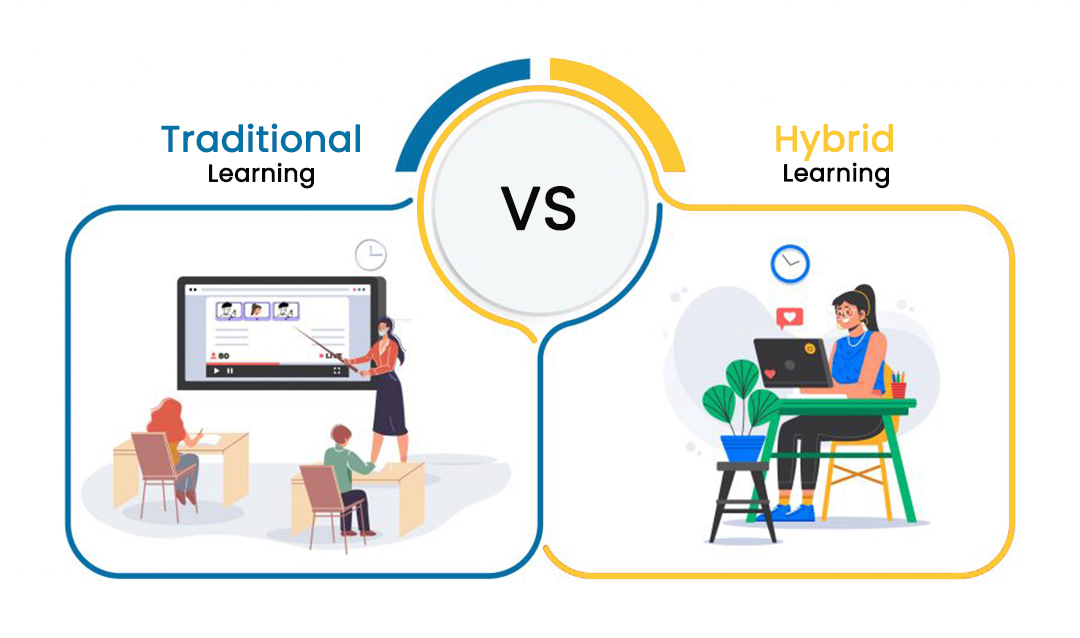 What is Traditional learning?
Traditional learning involves the direct interaction of the teacher with students. It includes oral recitation of the subject to be studied by a student while the other students sit there quietly and listen. This tactic is still used widely in schools and is also known as conventional education.
Traditional learning does not support remote interaction and is forced to be in a specific fixed time. It elaborates learning and opting for new skills while sharing space with different students with different interests and passions.
Following are some pros and cons of traditional education:
Pros:
—-> Traditional education contributes to preplanned and organized learning practices.
—-> Enables students to observe punctuality.
—-> Students gain exposure through speaking around people.
—-> Under pressure, working has opted.
Cons:
—-> It costs additional charges for transport etc.
—-> Inflexible study hours for students.
—-> Traveling consumes a lot of time which results in less time for studies and more exhaustion.
—-> Students are rushed to take notes immediately as the teacher delivers the lecture due to which they do not focus on learning at the moment.
What is Hybrid learning?
Hybrid learning is an educational type in which students attend the class virtually and teachers organize and encourage face-to-face sessions with each student so none of the students feel left out or unheard. It is the future of education that involves a mix of online and in-person educational activities. It can also consist of elements like online exercises or pre-recorded lectures for the better learning and understanding of the students.
Hybrid learning leads to web learning and students can explore online instead of sitting in a classroom and listening to jaded lectures without any pictorial representation.
Following are some pros and cons of hybrid learning:
Pros:
—-> Hybrid learning enables in-person interaction individually.
—-> Hybrid learning provides vast learning styles.
—-> This type of learning provides everyone to learn in their comfort zones.
—-> Flexible study hours for students.
—-> Reduces the percentage of getting Covid-19.
Cons:
—-> Requires technology such as laptops and internet facilities.
Traditional learning vs Hybrid learning
The 21K School is the first-ever online-only school in India. The faculty members and the students have joined from different parts of the world and not only from India. This school was built in order to provide healthy and effective opportunities to students while sitting in the comfort of their homes. Especially during times like these when the whole world is transforming and adapting to new normal, online education is highly considered in order to avoid any physical contact. The students are given proper attention face to face, so the teachers can work on the weaknesses of students and support them while pushing towards better understanding.
As time is very precious majorly for the students, the online education provided by 21k online schools in India saves plenty of hours which are wasted while traveling every day to the school and back to their homes. This online school follows a proper annual academic calendar and has certain hours and days fixed depending on the class. The faculty is highly qualified and experienced and to encourage the students, conferences and online events are conducted by subject experts and achievers. A wide range of subjects is provided to the students so they can opt for the courses of their interest.
Every learning method has its pros and cons depending on the student and their preferences. Online education is at its peak in India and all over the world due to the pandemic, to provide better resourceful online education in India is what is required now. It is the world of technology and almost everyone uses it, so it is better to take advantage of such privilege and provide platforms for effective and better learning through online schools. Hybrid learning permits vast learning experiences as compared to traditional methods. However, the traditional method is preferred in most places, but interactive learning is delivered through online education experiences as students can rewind or rewatch the lectures for better understanding and to clear any doubts.
After conducting certain surveys, it is stated that the results of hybrid learning were more effective than traditional learning. The purpose of online learning is to build up technical skills and abilities in the students with graphical communications. Students are then given such assignments to portray their skills. Online education allows the students to learn from the comfort of their homes, in their personal space, and just according to their preferences. The 21K School provides career counselling to students who are not sure about their interests. The students are taught Science, Literature, Arts, Language Development, Digital Media, Music, and Social Studies.
English is taught as the first language whereas students are provided with options to opt for a second and third language.
The 21K School imparts excellent education to the students who do not have access to good educational institutes in their cities. A regular feedback portal is made for the monitoring of the student's regular educational progress and meetings with parents are scheduled after short intervals to keep them updated on their child's educational progression.